In order to constantly improve its organization SP METALLO has implemented a Quality System compliant with ISO 9001 Edz 2015 by obtaining the relative Certification by RINA on 01/07/2019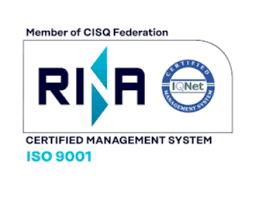 With our Quality Policy we formalize our long-term Quality objectives:
Ensuring a high level of Quality and Reliability of our products.
Constantly improving the Organization through continuous integration of all activities carried out in the QMS and in compliance with the requirements of the ISO 9001 Standard
Pursuing full customer satisfaction by carefully measuring the level of satisfaction with specific tools for detecting needs and expectations, periodic analysis of the data obtained and opening appropriate corrective actions in order to remove the causes of dissatisfaction.
Monitoring business processes with the definition, management and monitoring of quality indices.
Continuously training of the company staff in the concepts of Quality and Safety at Work (ref. Dlgs81 / 08) as it is a priority to pursue both the Quality of the work and the protection of the Health and Safety of the workers themselves.
Ensuring that activities are carried out in accordance with the applicable provisions of the law on safety at work.
Evaluating the Risks present in company processes and eventually coming from outside by implementing all the Actions for their containment and elimination as far as possible.